Majestic Theatre Dallas | Dallas, Texas
With their music creativity bursting at the seams, multi-platinum certified alternative rock band Blue October is poised to release not one, not two, but a triple album dubbed "Spinning The Truth Around". And you guessed it right, an album tour will not be far behind, as they are bound to hit the road again. Blue October is billed to hit the stage of the Majestic Theatre Dallas on Saturday 1st April 2023. This American rock band from Houston, Texas has etched its indelible mark on the global music soundscape with seventeen Top 40 singles. Ergo, expect nothing less than an all-killer, no-filler setlist. Platinum singles "Hate Me" and "Into the Ocean" will definitely bring the house down, yet the band has a whole slew of fan-favorite tracks that would keep fans singing, slamming, and jamming the night away. Blue October is a must-see for every alt-rock music fan out there. Tickets are now up for grabs, but if you want it fast, easy, safe, and hassle-free, click the 'get tickets' link right here, right now!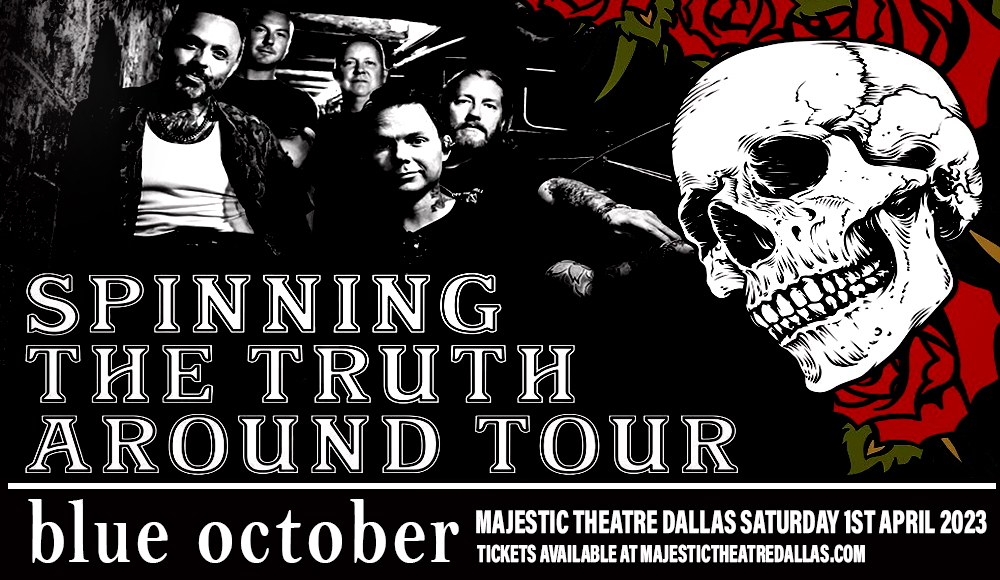 As grunge bands were in midst of their hey days, Justin Furstenfeld, his brother Jeremy and multi-instrumentalist Ryan Delahoussaye was discovered by former Kid Rock manager Michael Rand performing at the Pappadeaux Cafe in Houston in 1998. With his publicity and artist development machinery, the band got busy with tour dates , was eventually signed to a major label, and released their first album "The Answers" that same year. By 2002, Blue October were on their 3rd album release, "History for Sale", and the single "Calling You" garnered a great amount of nationwide airplay on radio, becoming the group's largest mainstream success at that time, until…
"Hate Me" — This 2006 single release from their fourth album, "Foiled", was certified platinum on February 22, 2007. "Foiled" went on to sell 1.4 million albums in the US. "Hate me today, Hate me tomorrow. Hate me for all the things I didn't do for you.." People from different parts of the world could not stop singing this brutally honest, guilt-ridden, and emo-filled alt-rock number. climbed to number two on Billboard's Modern Rock Tracks chart. "Hate Me" remained in the top five of the Modern Rock chart for 20 straight weeks.
From there, Blue October charged up the charts with their post-grunge hits which include "Into The Ocean", "She's My Ride Home", and many more. These caught the attention and ears of iconic novelist Stephenie Meyer, author of the Twilight series. In August 2008, Justin was featured in a sold out four-city tour with her. Twilight author Stephenie Meyer is a fan of Blue October, and their music has helped inspire part of the popular book series.
Their 27-year long-spanning career with seventeen Top 40 Singles on the alternative rock chart is proof that Blue October is formidable as ever. Their latest masterpiece is "Spinning the Truth Around" is a triple album. Indeed, there is no shortage of creativity and passion with this band; and fans will experience the overflow of their music force as they go on an extensive tour this 2023.
You don't have to wait until October. This is happening now. Save the date – Blue October at Majestic Theatre Dallas on Saturday 1st April 2023. Book your tickets now!