Majestic Theatre Information
Located in the famous area of Dallas' Theatre world – you can find The Majestic – a truly re-markable venue!
Starting as a vaudeville Theatre, the building opened it's doors in the spring season, back in the early roaring 1920's and led through to the 1930's – an important time for theatrical performances as it was all about showcasing the upcoming and current superstars. Just as many others were doing, The Majestic brought to it's stage many of the biggest actors on the scene, including the likes of; Gregory Peck, John Wayne and Audy Murphy.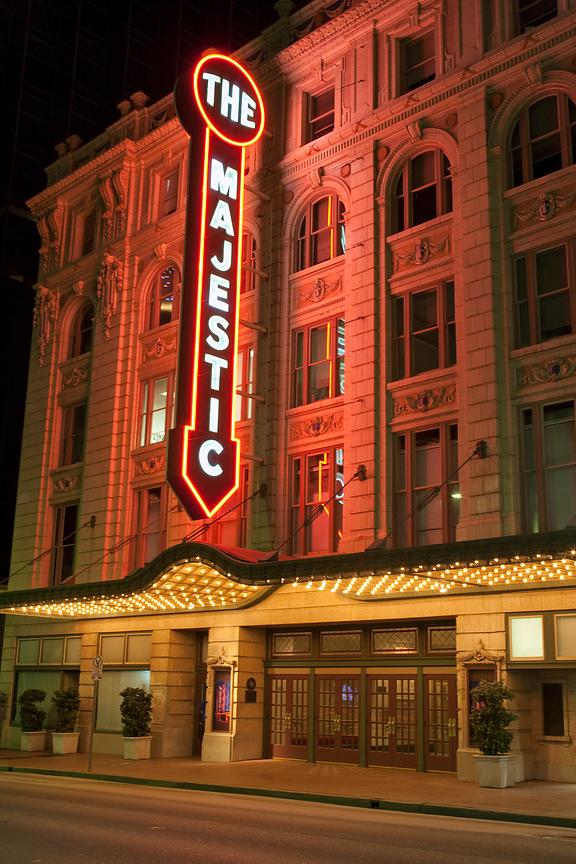 As it's reputation built, so did the set of the theatre and it's design, Mr John Eberson, (one of the foremost designers of theaters in the early 20th Century), turned it towards a glamorous feel, with the lobby and auditorium of Baroque design; black and white marble flooring and grand marble staircases.
Just as you would expect in the 1940's, finishing touches were added such as the two balconies and of course beautiful crystal crystal chandeliers, brass mirrors, ferns, and a marble fountain.
If you're a fan of performance, concerts or any kind of event – this is the place for you – come and visit this stunning theatre today!