Majestic Theatre | Dallas, Texas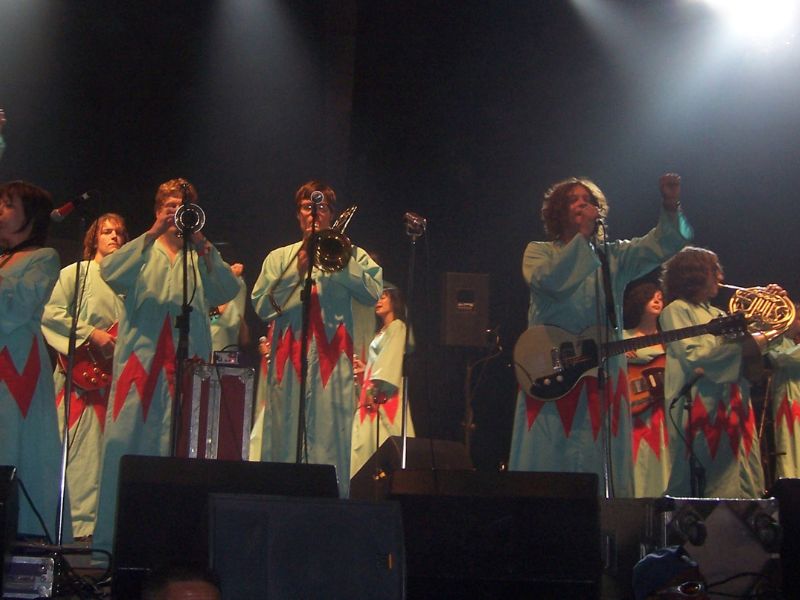 On Saturday the 16th of December 2023 The Polyphonic Spree will be at the Majestic Theater, Dallas for one of their limited dates for their 2023 tour. The line-up will include all the members of the group, with their passion and drive to create and play good music meaning their show will be one of the biggest and best the Majestic Theater will hold this year. As well as playing their own original music, they may also play some of their most famous yule-tide cover songs, such as 'Happy Xmas (War Is Over)' and 'Let It Snow', to give concert goers a much-needed injection of musical festive cheer. It will be an amazing show, so book your tickets before they are all sold out! The date to save is the 16th of December and the venue to be at is the Majestic Theater, so don't hang around and secure your places today!
The Polyphonic Spree give punchy performances, their energy and on-stage chemistry producing live concert experiences that are exceptional. They devote their skills to creating unity and giving audiences a 'wow' factor, bringing the music to life with their original compositions as well as covers - their renditions of 'Something in the Air' and the famous 'Band On The Run' by Wings have been particularly well received when played live.
In 2000 Tim Delaughter created the group that would become a name linked with the music scene in Texas, creating a sound that is instantly recognizable – The Polyphonic Spree. A key member of the group is bassist and founding member of Tripping Daisy, Mark Pirro, who has worked with Delaughter for decades and is an original member of The Polyphonic Spree, giving his skills as a musician and engineer to them.
Tim Delaughter is the frontman and musical director to the group, which boasts a medley of musicians, singers… and an electronic effects maestro. The ten-person choir and lead singers create a beautiful combination of vocals and harmonies, with the vast band being the perfect accompaniment to their singings. The band incorporates the sounds of a guitar, trumpet, French horn, violin and a theremin, to name just a few!
Their latest album, 'Salvage Enterprise', is a 2023 summer album release that is a brilliant follow up from their previous 2021 release, their covers album titled, 'Afflatus'. 'Salvage Enterprise' gives a fresh reminder of why The Polyphonic Spree have been creating and playing music for 23 years, and how there is no end in sight to their musical journey.
Now, for 2023 the troupe of musicians is taking to the stage for a limited number of touring concerts, and are delighted to be taking over the stage on Saturday the 16th of December at the Majestic Theater in Dallas, Texas, their home turf. Make sure you're a part of their show by booking your tickets. There is still time, so don't miss out! You may get the chance to hear some of their newest material, so be there to experience the live playing of tracks from 'Salvage Enterprise' and some festive music treats.