Majestic Theatre Dallas | Dallas, Texas
The Netflix comedy star, Taylor Tomlinson, for her critically-acclaimed stand-up specials "Quarter-Life Crisis" and "Look At You" is rising up the big stage, throwing a series of stand-up shows that'll get you laughing your socks off at The Have It All Tour. With her remarkable wit, charming wisdom, and hilarious acts, Taylor Tomlinson is set to throw the year's most relatable stand-up comedy tour as she gives it her all, including a stop at the Majestic Theatre Dallas on Friday, 3rd of March 2023. With "a ruthless appetite for laughs." as described by The New York Times, fans are in for a huge serving of hilarious wit, act-outs, and relatable tales. Book your tickets now!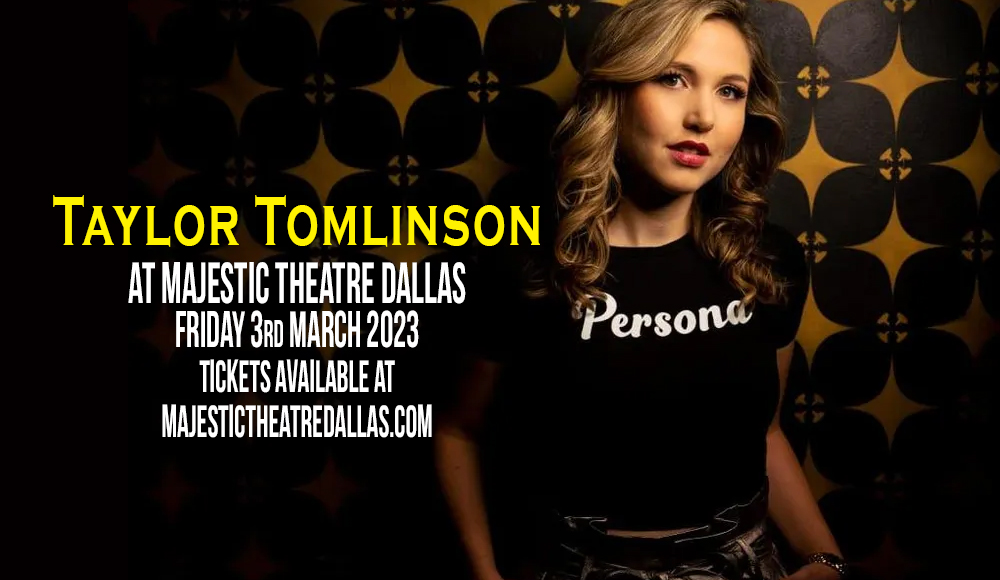 Hailing from California, the quarantine-favorite comedian, Taylor Tomlinson, began performing in church basements, schools, and coffee shops after her dad signed her up for stand-up classes at age 16. The young comic soon found her edge with her remarkable wit and strong delivery that gets audiences cracking into laughs. From church basements, Tomlinson found herself dominating the virtual stage as her Netflix specials "Quarter-Life Crisis" (2020) and "Look At You" (2022) became a global favorite.
"Even when she's navigating painful waters, she can't help but find the humor… her wit and pinpoint delivery reveal both an incisive writer and also a talented actor." The Los Angeles Times noted.
Finding herself amidst life's hurdles through humor and laughter, Taylor Tomlinson won the hearts of viewers worldwide as she gave the world some company amidst a lockdown where everyone turned to their screens. Penned by the Washington Post as "your favorite quarantine-watch", the woman is set to give it her all as live stages across the country are ready to welcome back echoing laughter of thousands of audiences gathered together.
In 2015, she finished at the Top 10 on NBC's ninth season of Last Comic Standing. She also made it to the "Top 10 Comics to Watch" by Variety at the Just for Laughs Festival in 2019. She also made various appearances on TV on The Tonight Show, Conan, and Comedy Central. She was also named in Time's "100 Next" list, featuring alongside 100 stars around the globe. In 2021, she was included in Forbes' "30 under 30".
Having navigated adulthood and garnering up remarkable wisdom that she translates into hilarious jokes, tales, and signature lines, Tomlinson is definitely a comic who's one for the books. With "whip-smart and spectacularly cynical" shows as described by Mashable, The Have It All Tour better be on your list of shows to catch this coming new year! Don't miss out on Taylor Tomlinson live on stage by booking your tickets now!