Majestic Theatre Dallas | Dallas, Texas
One of the fastest-rising comedy stars from the quarantine era, Taylor Tomlinson, is hitting the big stage on The Have It All Tour. Starring in two critically-acclaimed Netflix specials, the Washington Post named her "your favorite quarantine-watch" for her hilarious stand-up comedy craft. From church floors to sold-out theaters echoing thousands of laughing voices, Taylor Tomlinson is taking her comedy-gold bars to the live stage at Majestic Theatre Dallas on Saturday, 4th of March 2023. Don't miss out on the "Quarter-Life Crisis" and "Look At You" star give it her all at The Have It All Tour by booking your tickets now!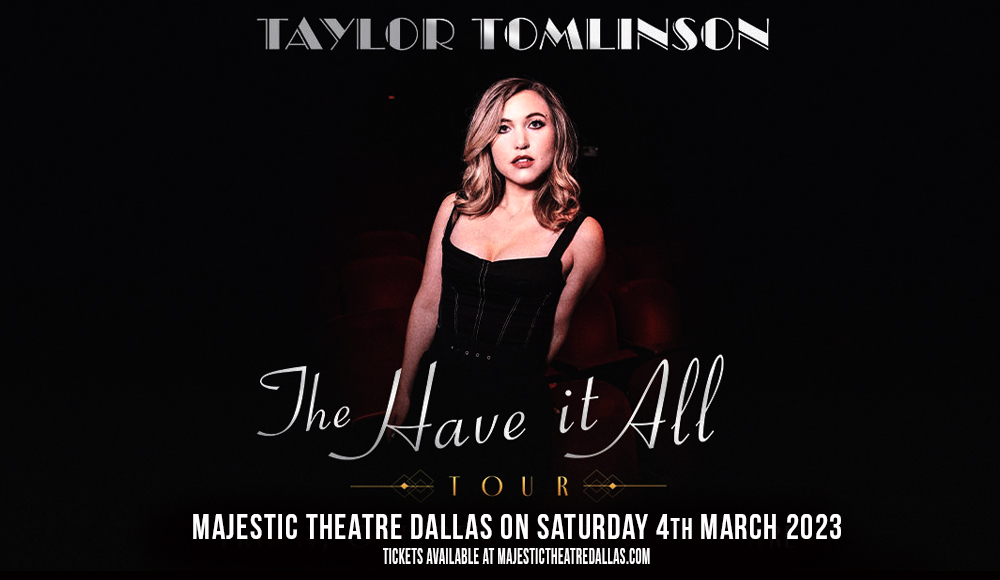 The fast-rising comedy icon hailing from California, Taylor Tomlinson, is set to deliver the perfect show for a quarter-life crisis as the gives it her all at her very own The Have It All Tour. Coming fresh from two critically-acclaimed Netflix specials "Quarter-Life Crisis" and "Look At You", she's all set to serve her hilarious wisdom to the live stage. As a quick-rising contender during the quarantine era, Tomlinson delivers tight jokes and well-honed stand-up specials that bring infectious laughter to every audience.
With her signature witty lines backed by surprising wisdom that navigates adulthood through comedic antics and perspectives, Tomlinson quickly won the hearts of audiences and comedy critics alike. Newsweek described her as "undeniably hilarious" and "wise beyond her years."
The Los Angeles Times shared "Even when she's navigating painful waters, she can't help but find the humor… her wit and pinpoint delivery reveal both an incisive writer and also a talented actor."
She began her comic journey at age 16 after her father sent her to a stand-up class. From church basements, schools, and cafes, she didn't expect to later find herself on millions of viewers' screens cracking laughs at her undeniable wit. In 2015, she was a top 10 finalist on NBC's Last Comic Standing and made it to the "Top 10 Comics to Watch" list by Variety in 2019. She made various appearances on The Tonight Show, Conan, and Comedy Central.
Later on, she found her rapid domination as she starred in her first Netflix special "Quarter-Life Crisis" in March of 2020, just in time as the world became glued to their screens. With millions of virtual laughs gathered, she toured with Whitney Cummings on the Codependent Tour. Releasing her own podcast "Sad in the City" the following year, she also ranked on the Forbes 30 Under 30 list in December 2021. Two years since her massive virtual breakthrough, she released her second Netflix special "Look At You" in March of 2022.
Navigating adulthood with strikingly sharp wit, Taylor Tomlinson's definitely one for the books as one of this generation's most influential rising comics after having won the nation's attention during the quarantine age. Don't miss out on The Have It All Tour by booking your tickets now!