Majestic Theatre | Dallas, Texas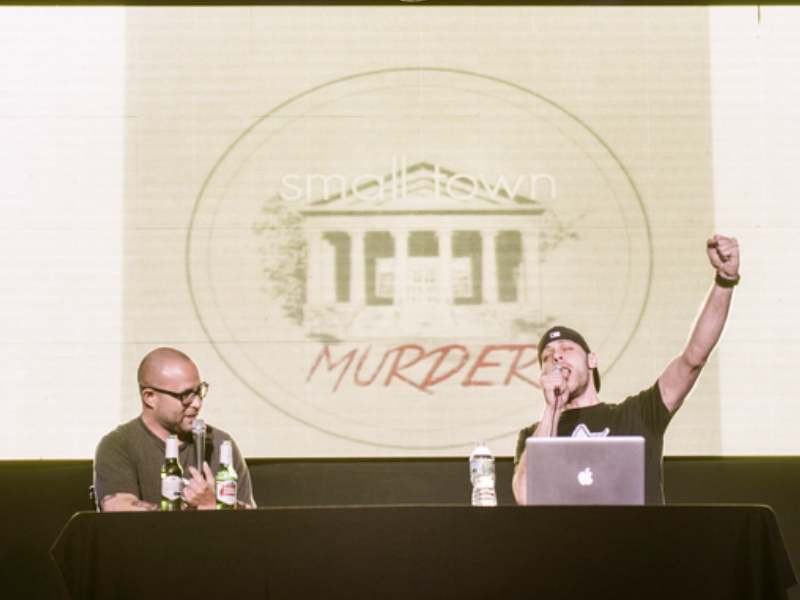 Tear into a series of American murders, scandals, and crimes with a comedic spin. The Small Town Murder Podcast is bringing a live version of their show to the Majestic Theatre on December 2, 2023! As part of their 2023 Podcast Tour, hosts Jimmie Whisman and James Pietragallo will investigate notorious crimes from small towns in this two-hour-long show presented by Live Nation! The hit podcast is famous for winning the People's Choice Award of Discover Pods Awards in both 2017 and 2018 while also being nominated for the Webby Awards in 2020. Skeptics are in for a treat because these guys will answer all your questions about the biggest murder incidents in the most unlikely tight-knit communities! Come look with us at a small town, investigate what makes it tick and the murder that happened with in depth research and a few laughs. It's a tragic comedy discussion with Small Town Murder! Get your tickets now!
Catch the Small Town Murder Podcast at Majestic Theatre Dallas on Saturday, 2nd December 2023. The event is part of their 2023 Podcast Tour presented by Live Nation which stops in various cities across the US.
In this podcast, two comedians examine various small towns, their residents, and a particular murder that occurred there. The show features three main elements in its episodes - an extensive study, a terrible event, and the hosts' humorous take on it all. Brand new episodes are released every Thursday.
The "Small Town Murder" podcast first made its premiere in January 2017, a year after the "Crime in Sports" podcast was released. James Pietragallo and Jimmie Whisman host each episode of this comedy series.
"It's dark humor. I would give it the basic description: there's a small town and murder takes place in it, and we're going to joke about it. That's the best way to put it. I try to be honest. We don't try to fool people into thinking it's serious and then, 'Hey, here's a joke.'," Pietragallo explains how to describe the podcast to someone who has never listened to it.
There are two forms of episodes in Small Town Murder. Some programs are up to three hours long, while others, dubbed "STM Express," are only a little over one hour each. The segments are typically stand-alone, so listeners don't necessarily need to start at the beginning to fully appreciate the podcast.
"This twist to this true crime podcast is how Small Town Murder brings a dash of fun to the heaviness. The hosts examine all the details of each crime, ensuring listeners never miss the story. But the two men are both standup comedians in their day jobs. So they also make each Small Town Murder episode hilarious. The result is a fun listen on not-so-fun topics," Amazon reviews the podcast.
The live show will be presented at the Majestic Theatre in Dallas, which was first established as a vaudeville theater in April 1921. Today, the theater is being used by national producers to present performing arts events, concerts, and comedy acts. The venue is versatile as it is also accessible for business meetings, charitable events, and private gatherings. Purchase your tickets now before it all sells out!