Majestic Theatre Dallas | Dallas, Texas
They're about to get back to where they once and will always belong — the live concert stage! The music of The Beatles truly belongs to the live stage, but it all starts at the one place where the music and the magic are created — Abbey Road! A TRIBUTE TO THE BEATLES presents The Best of Abbey Road Live! In celebration of Abbey Road, RAIN will bring the greatest hits from this epic recording studio which spawned the monumental album to life, in addition to all the fab four fan favorites. Catch Rain – A Tribute to The Beatles at the Majestic Theatre Dallas on Friday 22nd April 2022. With all these Beatle fans coming together, tickets will surely be moving fast. Click on that 'Get Tickets' link on this page to book your tickets now!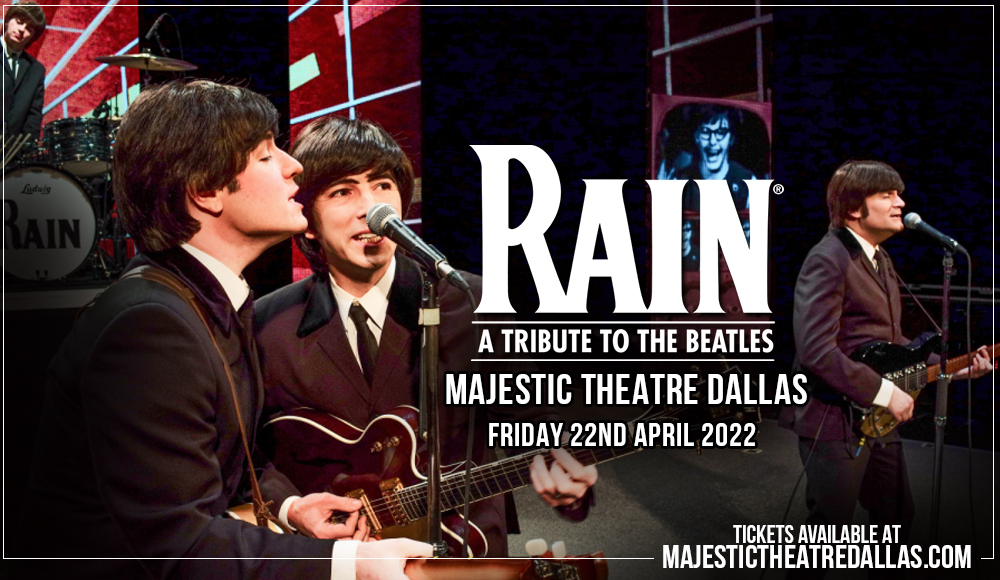 1975 – As the world was still processing and hadn't exactly moved on over The Beatles' break up, a Laguna Beach, California, band called Reign played both original music and Beatles covers. Founding members were Mark Lewis, Eddie Lineberry, Bill Connearney, Grant Belotti, Chuck Coffey, and Steve Wight. The band later on evolved and stuck with the name Rain," a reference to the 1966 Beatles single "Rain," the B-side of "Paperback Writer." By 1980, the band has built a solid reputation as a long-standing touring tradition. As The Beatles themselves have stopped touring mid-way into their careers, Rain has given Beatle fans the experience of hearing Beatles songs performed on the live stage. Rain's mind-blowing performance takes you back in time and brings the recorded songs to life. Their stunning delivery of a totally live, note-for-note performance is truly "the next best thing to seeing The Beatles!", says the Associated Press.
Rain traditionally does a chronological history of The Beatles via their music. Yet, each show highlights an album or a significant phase on how The Beatles revolutionized modern pop-rock music. This 2022, Rain will lead us to the iconic crosswalk — Abbey Road. Yes, come together to this magical mystery show where you'll likely meet "Mean Mr Mustard", play on the Octopus' Garden, or do a fist bump with Maxwell's Silver Hammer, bow to "Her Majesty" and the "Sun King"… at "The End" of the show, you may feel some "Golden Slumbers" creeping in, but would surely be "Something" that would keep you clamoring for 'more! more! more!
Rain – A Tribute to The Beatles at Majestic Theatre Dallas on Friday 22nd April 2022 –book your tickets now!