Majestic Theatre Dallas | Dallas, Texas
Emmy and Grammy Award-winning stand-up comedian, writer and actor Patton Oswalt comes to Majestic Theatre Dallas on Friday 22nd February 2019 to tickle your funny bones! With his refreshingly honest, cynical, but ultimately warm-hearted take on life, the universe and everything, everyone's favorite nerdy comic will have you laughing until you can't laugh any more! Tickets available now!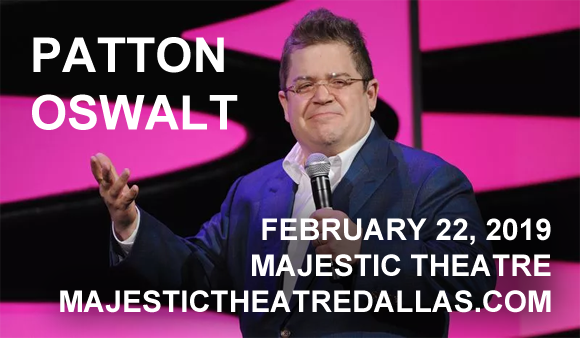 American stand-up comedian, actor, voice actor and writer Patton Oswalt began his career in the late 1980s on the comedy circuit. He went on to write for MADtv and in 1996 he starred in his own HBO comedy special. That year he also made his film debut in the military comedy film Down Periscope, having made his TV debut two years previous in 1994 in an episode of Seinfeld. In 1998, Oswalt began his longest and most notable television role as Spence Olchin in King of Queens – a role he played until 2007. Oswalt's debut starring role in a film was as the voice of Remy the Rat in the 2007 Pixar film Ratatouille. He is also known for his co-starring role alongside Charlize Theron in the 2011 film Young Adult, and for playing multiple identical brothers, the Koenigs, on the Marvel television program Agents of S.H.I.E.L.D.. To date, Oswalt has released six comedy specials and is the winner of a Primetime Emmy Award for Outstanding Writing for a Variety Special and a Grammy Award for Best Comedy Album for his Netflix special Patton Oswalt: Talking for Clapping (2016).