Majestic Theatre Dallas | Dallas, Texas
The comedy-gold YouTube sensation with her signature overdrawn red lips, Miranda Sings, is hitting the live stage on a new series of shows as she kickstarts the coming new year. Heading to the stage at Majestic Theatre Dallas on Friday, 3rd of February 2023, Miranda Sings is set to throw big comedy surprises, off-key singing lessons, and hilarious tales and rants about anything under the sun. Entertaining YouTube audiences since 2008 with her satirical personality for egotistical singers who think they can make it big on YouTube, the woman has entertained and empowered her young audiences to do whatever they love without hurting anyone. Taking life as a parody, kickstart 2023 with a laugh by booking your tickets to Miranda Sings' live show now!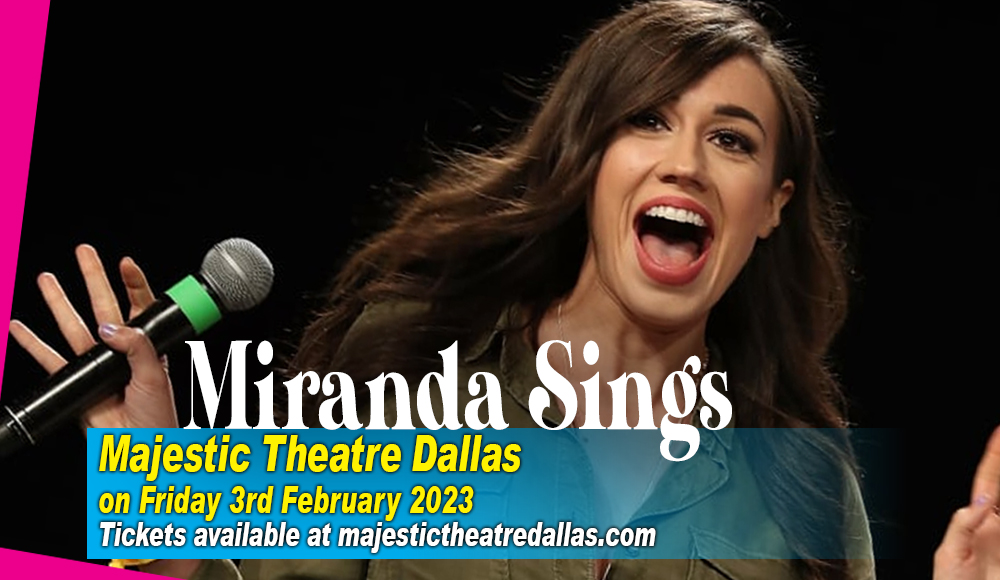 The heart behind the sensational internet character of Miranda Sings, Colleen Ballinger is celebrating over fourteen years of Miranda Sings' legacy of spreading laughs, rants, and off-key parodies to pop hits. Wearing her signature red lipstick, she defies conventional beauty standards and empowers her audiences to be themselves without having to step on others' joy. As notorious she is for her raging content, the character has won the hearts of subscribers around the world for her lessons that "Popular girls don't have to be stylish. … Fear no one. … It's [acceptable for girls] to be cranky."
The Times says that "there is another, sweeter side to her travails. Miranda loves singing and, despite – or perhaps because of – the satire, becomes an evocation of something all humans love to do and have done since before we discovered language. The very act of singing, however dire the sound, makes us feel good". Making it big at a time when Glee was also in rising popularity, Miranda shared "Everyone is talking about Glee and choirs and musical theatre, igniting a flame that has been dimmed for a long time. … Live performance and musical theatre were almost a lost art … people need to be reminded that it takes a lot more effort to sing than just watching movies or TV shows." With an audience who grew up as a Glee generation, "Since I became so famous … everyone is watching more music and singing more – because everyone wants to be more like me." she adds. As a carefree example of doing what she loves, Miranda's impact is something that made fans stay all throughout the years.
With a new year for big shows and big surprises, Miranda Sings' live acts will definitely feature her blood-red ovderdrawn lipstick, off-key parodies of pop hits, and hilarious rants and tales about family and life. Giving life to the character in 2008, Miranda Sings is a satire inspired by bad ang egotistical singers who post their videos everywhere thinking they can make it big. Miranda exudes this character through her parodies and cheeky antics. Robert Lloyd from the Los Angeles Times says ""the ferocious enormousness of Miranda's self-regard, which blots out nearly everything around her, is inversely proportional to her talent."
Moreover, she's made appearances on TV including Jerry Seinfield's Comedians in Cars Getting Coffee, and The Tonight Show Starring Jimmy Fallon. She's also the executive producer and star of the Netflix hit "Haters Back Off" which aired for two seasons. She also has New York Times #1 Bestselling Author accolades up her sleeve for her two books, Self-Helf and My Dirrahe.
Don't miss out on the one and only Miranda Sings live on stage at Majestic Theatre Dallas by booking your tickets now!