Majestic Theatre Dallas | Dallas, Texas
ABBA – arguably one of the greatest and most successful pop groups of all time, did not start out clutching silver spoons, as many of us have believed. This amazing pop group, following in the steps of the original band, Mania – The ABBA Tribute comes to Majestic Theatre Dallas on Friday, February 2nd, 2024. Abba, as a band formed in 1972, and it was not until their success at the Eurovision Song Contest in 1974, that they became known as an entertaining group and soon after, they entered the category of supergroup. The four members of the group each started their musical careers as individuals, met and married, and sadly, divorced, along the way. Through some canny marketing, some savvy business deals and acumen, the group have elevated themselves and their image, to say nothing of their net worth, to multi-millionaire stardom status. In their active touring career, they toured for less than 6 months, and in that time, they performed in less than 100 concerts. The tribute band, Mania, intends to keep the music playing and reaping the benefits from where the original group left off.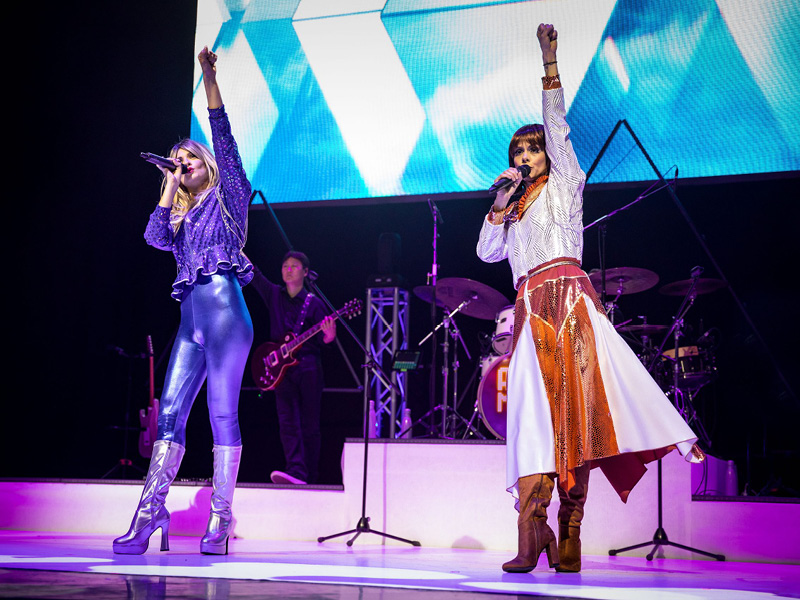 Almost everyone has heard of the supergroup ABBA. Originally from Stockholm in Sweden, they formed the group in 1972. They have become one of the most popular and most successful musical groups of all time. In the short time they have been performing together, they have also become one of the fastest selling, musical groups in the history of popular music.
Their sound topped the charts all over the world between 1974 until 1982. They are as popular today as they were at the height of their successful career, and the world was saddened to hear, in 1982, that they had an unofficial breakup of the band. They never actually publicly declared the ending of the group in 1982, but they did get together unofficially and occasionally thereafter for special projects.
As everyone knows, ABBA shot to stardom after their winning the Eurovision Song Contest in 1974. It is unbelievable, that during their relatively short musical career, spanning a mere 8 years, that they performed in concert for a total of less than 100 times and that their touring career lasted less than 6 months. Most other bands, half as popular as ABBA, have spent years on the road promoting their wares.
The vibrant and catchy sounds of ABBA, their simple and sing-along lyrics are so well known, that they are still selling records in the millions today, even though the band is no longer. 10 years after the split of the band, their album ABBA GOLD, became an instant hit, and is still known as their signature album.
Surprisingly, in 2016, ABBA reunited and began working on an inventive and innovative alternative concert. A one-of-a-kind and never-been-done-before concept, that was also set to take the world by storm. The concept of the concert, was one of a digital enhancement performance. Known as VOYAGE. Their one-off multi-million-dollar stage design and build, and the new digital Avatar ABBA musical concert, debuted in London in May 2023, as expected, to huge ABBA fandom, and to huge critical acclaim.