Majestic Theatre | Dallas, Texas
Be it electric or acoustic, fans love it when he sings Texan-style country music along with his gift for storytelling. Highly respected and influential country music artist Lyle Lovett opted for stripped-down arrangements this time as he goes on tour with his acoustic group, and is set for two-night shows at the Majestic Theatre Dallas on Friday 8th April 2022. As a four-time Grammy-winning singer, composer, and actor, Lovett is one of the most revered live entertainers and best known for his Billboard chart-topping hit "Cowboy Man". Watching Mr. Lyle Lovett & His Acoustic Group perform on stage is easy and captivating, much like catching up with an old friend who'll delight you with an engaging conversation. Make sure you lock in the best seats you'll ever get. Book your tickets here by clicking on that 'Get Tickets' link right here, right now!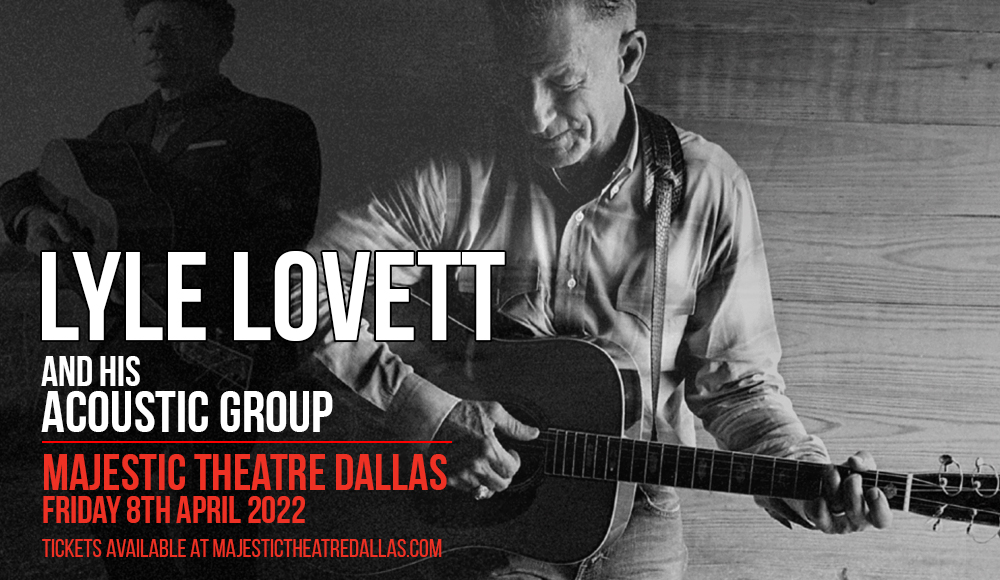 Well-respected, influential, and iconic. Lyle Lovett is an elder statesman in American country music who is a master storyteller and an artisan who can weave elements of folk, country, rock and roll, rockabilly, swing, jazz, gospel, and bluegrass. He has an amazing track record of 13 albums and released 25 singles to date. "Cowboy Man" is his signature song and has topped the Billboard Hot Country Songs. Lovett has bagged four Grammy Awards, including Best Male Country Vocal Performance and Best Country Album.
2022 will not only be a year that would mark Lovett's first in-person shows since March 2020. He is celebrating another milestone as his best-selling album to date, "Joshua Judges Ruth" marks its special thirtieth-anniversary.
"It doesn't seem possible that was 30 years ago," Lovett says. "I never dreamed in 1976 when I was 18 and first started performing that in 2022 I'd still be able to do something for a living I love this much. It's thanks to the people who keep showing up, who keep buying my records and who've supported my livestreams during the pandemic. I'm grateful to them, and I want to do my best for them every time."
Lyle Lovett & His Acoustic Group at Majestic Theatre Dallas on Friday 8th April 2022 — get your tickets now!