Majestic Theatre | Dallas, Texas
Fans would definitely love it the moment phenomenal country music icon Lyle Lovett confirms that his 2022 tour is ready to go! This four-time Grammy-winning singer, composer, and actor, and bona fide "Cowboy Man", has opted for a stripped-down arrangement, hence fans would be in for a treat as Lovett is set to bring a "living-room listening experience" and engage his fans with an up-close and personal-conversational-onstage style. Lyle Lovett & His Acoustic Group will head on to the Majestic Theatre Dallas on Saturday 9th April 2022 for a two-night show. Last seen on the live stage in March 2020, this is the first time Lovett goes on an 'in-person' tour since the pandemic. Don't miss this amazing close encounter with one of the most revered stars of country music. Hurry and book your tickets now!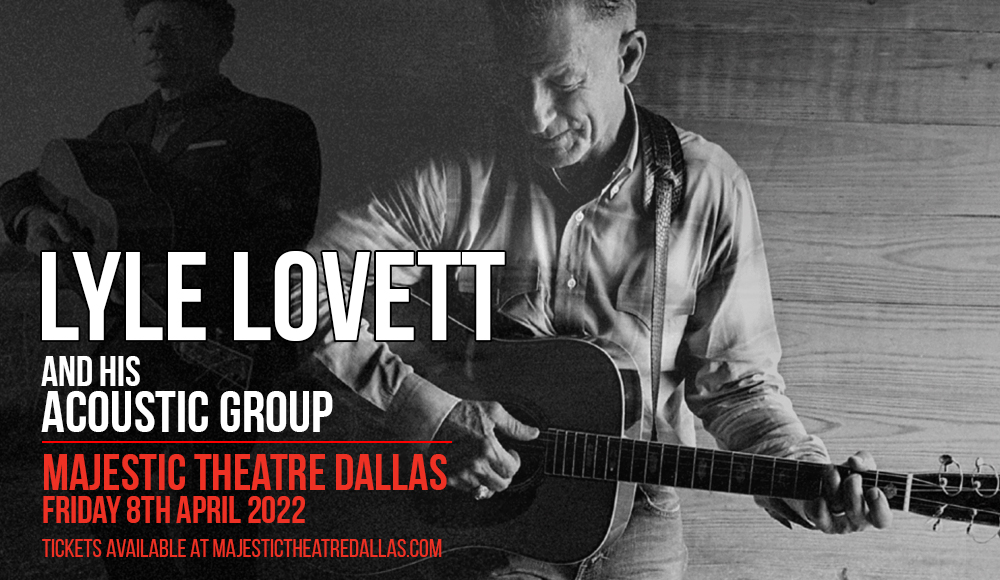 American singer, songwriter, actor, and record producer Lyle Lovett is like an elder statesman who brings much pride and joy to his legions of loyal fans and commands the utmost reverence from his peers and from the music business. He has recorded and released 14 albums that spawned 25 singles to date, including his highest top ten 10 chart-hitting songs on the U.S. Billboard Hot Country Songlist –"Cowboy Man". He is a total entertainer that has dabbled in major movie roles and was once married to silver screen superstar actress Julia Roberts. Yet Lovett is a music man at heart and his passion and ingenuity in fusing elements of country, swing, jazz, folk, gospel, and blues has given him prestigious honors and awards. He is a four-time Grammy Award winner, including Best Male Country Vocal Performance and Best Country Album; and was given the Americana Music Association's inaugural Trailblazer Award, and was named Texas State Musician.
Coinciding with the tour, 2022 also marks the 30th anniversary of Lovett's best-selling album to date, "Joshua Judges Ruth".
"It doesn't seem possible that was 30 years ago," Lovett says. "I never dreamed in 1976 when I was 18 and first started performing that in 2022 I'd still be able to do something for a living I love this much. It's thanks to the people who keep showing up, who keep buying my records and who've supported my livestreams during the pandemic. I'm grateful to them, and I want to do my best for them every time."
Tickets to the Lyle Lovett & His Acoustic Group is now available. Book your tickets now!