Majestic Theatre | Dallas, Texas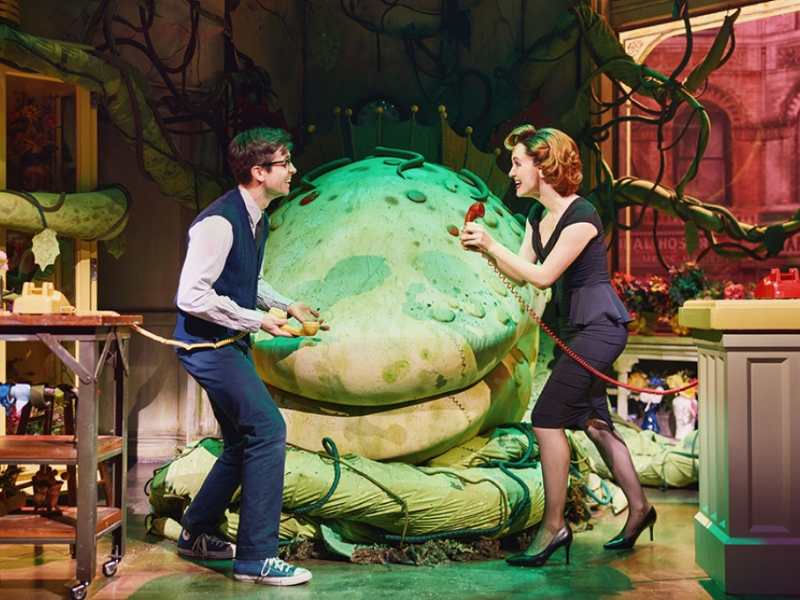 On October 27 at the Majestic Theatre in Dallas, Texas, the Little Shop of Horrors will open its doors once more for a bloody good night of tendrils and terror! Celebrating its 30th season, the Lyric Stage company is thrilled to present this spooky classic. Enjoy the acclaimed 60s pop/rock score by Alan Menken and Howard Ashman, with famous tunes such as "Skid Row (Downtown)" and "Somewhere That's Green." Follow a series of slippery slopes with Seymour (Dan Prior) and Audrey (Katrina Z. Pavao) as they descend into every florist's worst nightmare. With the award-winning direction and choreography of Rachel Bertone, this gruesome garden of theatrics is sure to make you shriek in horrified glee. The ex-vaudevillian venue highlights a well-maintained interior, friendly staff, and a great view of the stage, no matter where you sit. The spirit of Halloween compells you to book those tickets now!
Fun fact: Plants don't usually talk when they're hungry. Slithering its way to downtown Dallas, the Little Shop of Horrors claims the Majestic Theatre for a Friday fearfest on the 27th of October.
Just in time for Halloween, the Lyric Stage company continues its 30th season celebration with a showing of theatrical hymns and horrors. Featuring the award-winning score of Alan Menken and Howard Ashman, Little Shop of Horrors delights the ears with 60s rock and doo-wop sounds. Expect electrifying versions of popular hits such as "Skid Row (Downtown)", "Somewhere That's Green", and "Suddenly, Seymour."
"Little Shop of Horrors remains a first-rate, horrifically funny musical tragi-comedy, putting its best tendril forward in its current production at the Lyric."
Join Seymour and watch in fascinated horror as the strange little plant parked by the shop window evolves into a conniving, potty-mouthed carnivore. Led by renowned director and choreographer Rachel Bertone, the musical showcases a passionate cast, delectable costumes, and masterful puppetry that will have you questioning the implausibility of a man-eating plant.
Seymour actor Dan Prior invites curious crowds to this classic tale of caution:
"This is a funny, heavy, campy, dark and joyful show with a lot of heart. I want people to walk away having escaped into our fantasy… On top of that, I want people to hum the music while they ponder perils presented and steer clear of Seymour's pitfalls."
Here's a tentative roster for the cast:
Dan Prior as Seymour Krelborn
Katrina Z. Pavao as Audrey
Yewande Odetoyinbo as Audrey II, Voice
Lovely Hoffman as Crystal
Carla Martinez as Ronnette
Pier Lamia Porter as Chiffon
Jeff Marcus as Orin
Remo Airaldi as Mr. Mushnik
Tim Hoover as Audrey II, Puppeteer
And here's one for the creatives:
Rachel Bertone - Director/Choreographer
Dan Rodriguez - Music Director
Janie E. Howland - Scenic Design
Marian Bertone - Costume Design
Andrew Duncan Will - Sound Design
Franklin Meissner, Jr. - Lighting Design
Cameron McEachern - Puppet Design
Robin Grady - Production Stage Manager
Nerys Powell - Assistant Stage Manager
Lauren Corcuera - Props Artisan
Blake Du Bois - Assistant Director
Little Shop of Horrors enjoys an expansive history of awards from original productions to recent revivals. Among these are several Drama Desk (including Outstanding Musical) and Outer Critics Circle (including Best Score) awards. The show is also acknowledged with nominations from the Grammy, Tony, and Laurence Olivier award-giving bodies.
The century-old Baroque venue makes a fantastic first impression with its polished interiors and personable staff. And with an amazing view of the stage, you'll never miss even the smallest of grisly details!
Indulge in monstrous mayhem! Buy your tickets now for Little Shop of Horrors, a spine-chilling LIVE performance on Friday, 27th of October, 2023 at the Majestic Theatre, Dallas!