Majestic Theatre Dallas | Dallas, Texas
One of the world's biggest rising stars hailing from Mexico, Kevin Kaarl, just dropped an impressive new album "Paris Texas". Drawing inspiration from a 1984 film and telling tales of growth and pains in life, the singer-songwriter exudes promising talent and great artistry with his new material. As he celebrates this milestone with new music and new stories to tell, Kevin Kaarl is setting foot live on stage on a series of shows across the country with a stop at Majestic Theatre Dallas on Wednesday, 29th of March 2023. Book your tickets now!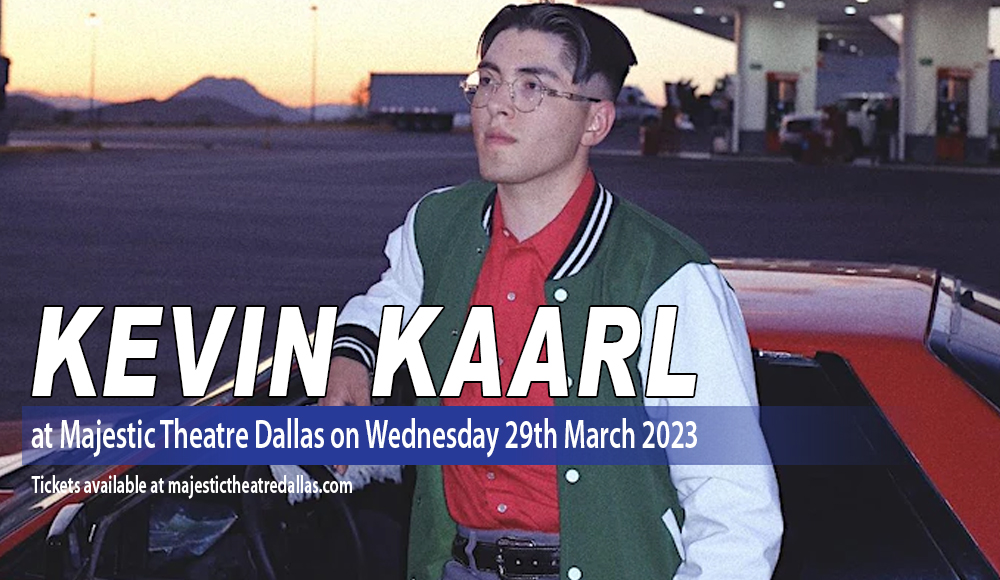 Hailing from a state in Northern Mexico amidst the peace of surrounding farms and norteños, Kevin Kaarl is a man surrounded by peace, amidst the rollercoaster of emotions that one goes through growing up. This very setting inspired his newest release, a cover of Chalino Sánchez's "Prenda del Alma".
"Chalino's style is not like everyone else's. His style is different and unique. That's why I like it," he explains in a feature with Rolling Stone, citing that Chalino is also from the North as he is, explaining how he felt that the man made a mark in the genre.
Having grown up with a love for music, Kevin Kaarl took on this path, striving to make an impact just like his major influences, and he's on the right track for sure. Releasing "Amor Viejo" in 2018, the man gained widespread attention for his unique sound and artistry. His succeeding releases, including "Vamonos a Marte", allowed him to amass an even bigger following, paving the road to making an impact in the industry. With a unique blend of folk, rock elements, and dream pop in his craft, the world has come to find this beautiful gem of global music.
With a new album out in the airwaves, "Paris Texas" is a 13-track musical and lyrical masterpiece filled with deeply personal tales and journies he's been through.
"The album is a story of someone who lost interest in himself and then rediscovered themselves," Kaarl shares. "It makes you feel more human that someone who was lost was able to find themself."
With personal tales to share, and folk and dream-pop infused melodies to offer, Kevin Kaarl's artistry is one for the books. Largely drawn by inspiration, his craft is definitely authentic and loved at its best.
His new album "Paris Texas" draws inspiration from a 1984 film "Paris Texas" starring Henry Dean Stanton. With a main character rediscovering himself and exploring ways to recover a life left behind, the name clicked and thus Kevin Kaarl's very own "Paris Texas" was born.
"I connected with that movie and it made me feel good because I could relate to the guy in the movie," he shared with Rolling Stone. "I feel I saw it at the right time and it helped me a lot creatively. It helped me a lot — a lot to finish this album."
Don't miss out on Kevin Kaarl's new U.S. Tour by booking your tickets now!