Majestic Theatre Dallas | Dallas, Texas
Get ready to laugh with the crowd as John Crist comes out of the screen and onto the stage at The Fresh Cuts Comedy Tour live in Majestic Theatre Dallas on Saturday, 25th of June 2022. John Crist has amassed over a billion views in total for his comedy sketches. He is also known for his comedy sketches for Buzzfeed. His biggest YouTube comedy hits include "Every Parent at Disney", "If golf and soccer switched announcers.", and "Weather Man MELTS down on live TV". Having made it to Pollstar's Top 100 Global Tours list in 2019, fans are surely in it for a hilarious show with John Crist. So, get ready to laugh out loud by booking your tickets now!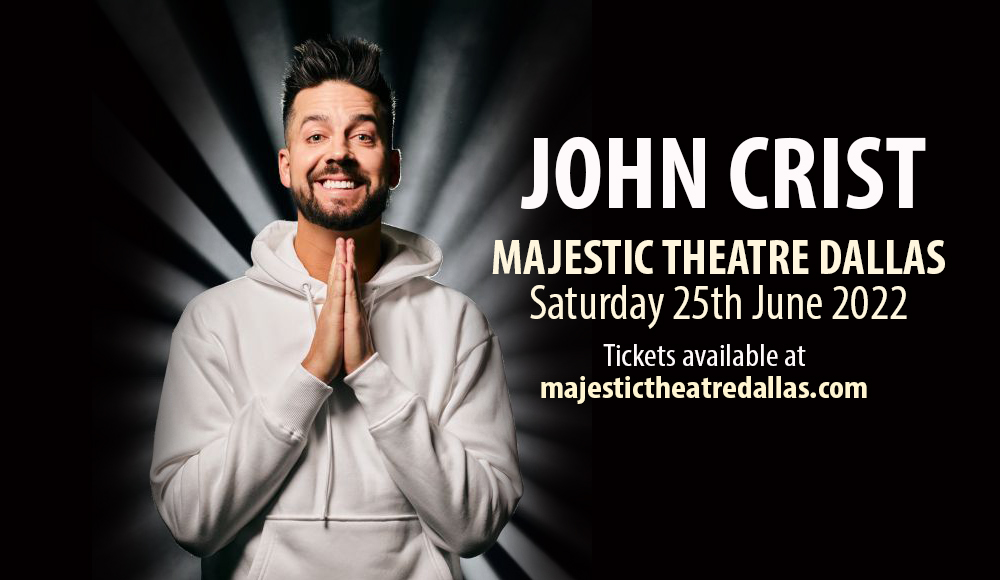 Making a mark as one of the world's rapidly rising comedians, John Crist has made audiences all over the world giggle and laugh out loud in front of their screens through his signature comedy sketches. with about over a billion views in total, his content has been featured in publications including US Weekly, Buzzfeed, The Huffington Post, Cracked, and many more.
Hailing from Atlanta, Georgia, John Crist is the son of a pastor father, growing up surrounded by Christian culture. He was a staff at Chik-fil-A and got fired from that first job of his for stirring lemonade using his hand. "I grew up in the deep south, my dad is a pastor, and I was the third of eight homeschooled children. My first job was at Chick-fil-A. Coming from a background like that, how do you NOT write jokes?!" said Crist.
Crist made his debut performance at an open mic night at Chili's in 2009. He won The Denver Improv's Got Laughs Competition, and The Loonees Comedy Competition in 2012. He was also a finalist in Comedy Central's Up Next Comedy Competition. He made an appearance in Gotham Comedy Live, where Louie Anderson said "It's only a matter of time until John Crist is a household name. He is so likable, and his stand-up is top notch".
He started propelling into comedy fame when his 2016 comedy sketch "Christian Music: How It's Made" went viral. From then on, John Crist continued to amass more and more fans, and more laughter worldwide.
He has a wide range of content covering different topics, most notable for his various comedy sketches. Some of his most popular videos include "Christian Mingle Inspector", "Every parent at Disney", "If goldf and soccer switched announcers", and "Christian Moms Be Like".
With Crist himself taking over the stage at Majestic Theatre in Dallas, it's definitely a 'fresh cut as his stand-up comedy jokes come to life, sharing the stage with the crowd for everyone to giggle and burst into laughter. Everyone needs some dose of laughter these days, so grab those tickets now!