Majestic Theatre Dallas | Dallas, Texas
The iconic drag duo is back to take over the gay holiday season at The Jinkx & DeLa Holiday Show! So, you better watch out… you better not cry… 'cause the gay holidays are coming over at Majestic Theatre Dallas on Monday, 12th of December 2022. Hailed as "The Queens of Christmas" by Entertainment Weekly, Jinkx Monsoon & BenDeLaCreme are set to throw the gayest drag queen holiday show of the year! The 22-city trek promises to bring the duo's signature antics and new songs that'll get you bursting into laughter. Don't miss out on the duo jingling everyone's holiday bells at The Jinkx & DeLa Holiday Show by booking your tickets now!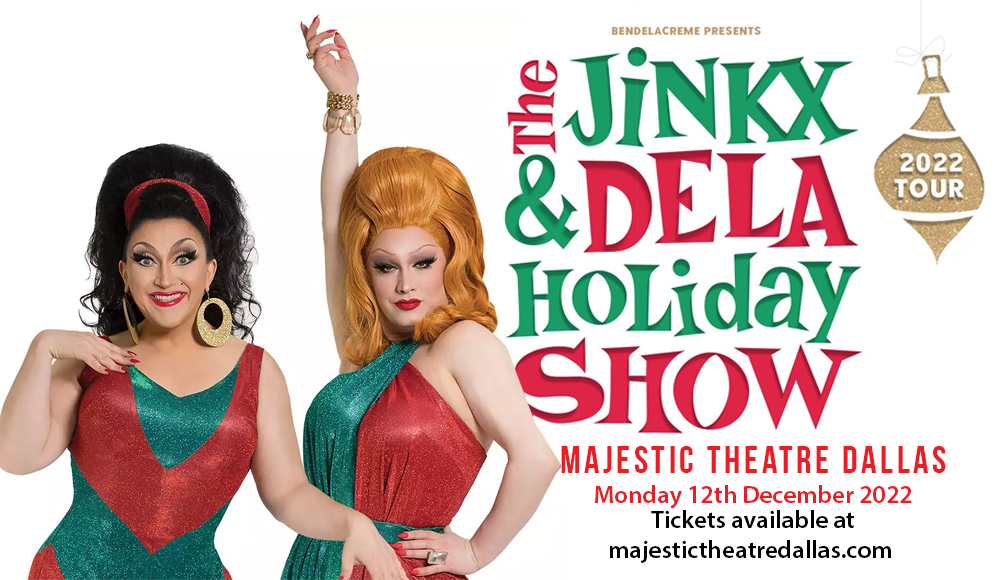 Two of the most beloved drag queens of RuPaul's Drag Race, Jinkx Monsoon and BenDeLaCreme are back to jingle your bells at their highly-anticipated Christmas holiday show run. The iconic drag duo is throwing the gayest holiday season at The Jinkx & DeLa Holiday Show on a 22-city trek – which includes a stop at Majestic Theatre Dallas on December 12th.
"The Jinkx & DeLa Holiday Show will take everything you expect from a drag queen variety show, and spin it on its side. It will test the limits of stupidity while being unexpectedly deep and reflective. We strive for entertainment while always proving that the holidays are for you to celebrate however you want to," BenDeLaCreme shared in a press release.
It's gonna be another fabulous holiday season with the duo's never-failing comedic genius, cheeky antics, new songs, and fan favorites at the Jinkx & DeLa Holiday Show.
"Nothing makes me feel more connected to the good in the world than the seas of people we get to celebrate the season with night after night — laughing, cheering, and being in our feelings together," Jinkx added. "I'm so lucky to get to experience that each year, and I hope you all will experience it with us."
Written and produced by the beloved drag duo themselves, fans can expect a show that is crafted right from Jinkx and DeLa's hearts.
"Every year we take an honest look at ourselves and the world around us, and create new material that reflects back our common experience. We want people to feel entertained and seen!" DeLa shared.
From queens who rose from the RuPaul's Drag Race stage, the iconic duo has taken the world by storm as one of the most beloved drag queens in the world. The New York Times said that the powerhouse duo is "sure to lift your spirits and make you howl with laughter."
So, if you're looking for the best show to lift your spirits up this holiday season, look no further as Jinx and DeLa invite you on a night filled with laughter, songs, and whip-smart comedy that altogether creates a safe space where everyone can be who they are. 'Tis the season to celebrate joy and love – so book your tickets now for the Jinkx & DeLa Holiday Show!