Majestic Theatre Dallas | Dallas, Texas
Calling all SNACKHEADS! The unstoppable duo, Ashley Hesseltine and Rayna Greenberg are taking Girls Gotta Eat to theaters near you! Down to snack and talk about all things juicy, the acclaimed podcast is taking its live show to Majestic Theatre Dallas on Friday, 29th of September 2023. From dating, sex, relationships, and anything under the sun, Girls Gotta Eat is the ultimate girls' night out as they share quirky tales, juicy conversations, and the best tips to make the most out of life's surprises. Serving a live taste of sex tips, relationship advice, and f*ckboy detection, Hesseltine and Greenberg are stoked to share a night of snacks, joy, and the power of friendship as they're "never settling for bad sex". Getting sh*t straight live on tour, make sure to sign up for a wild night of snacking with fellow 'Snackheads at Girls Gotta Eat live at Majestic Theatre Dallas. Book your tickets now!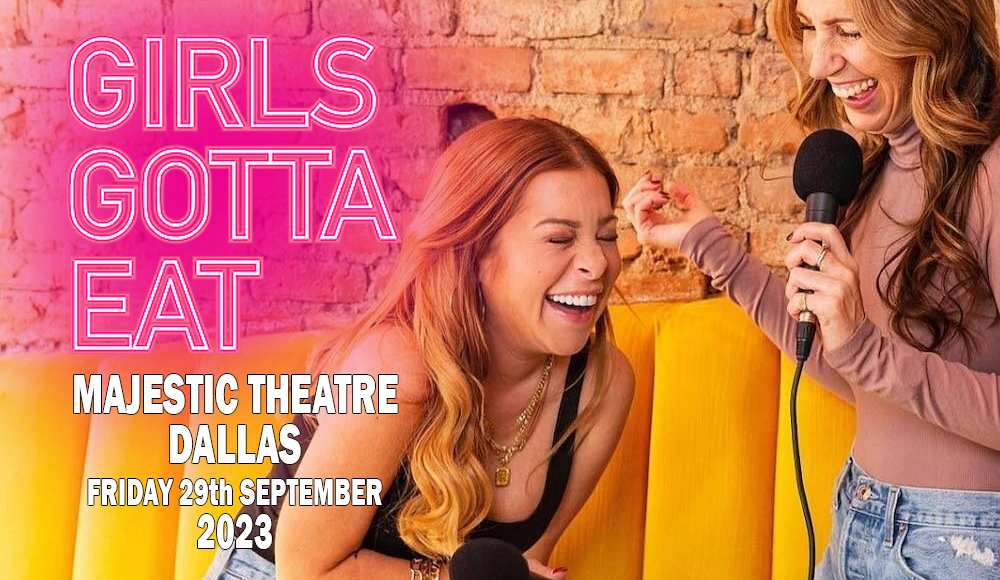 It's time to get sh*t straight! The ultimate girls' night out is coming to theaters near you as Girls Gotta Eat, led by Ashley Hesseltine and Rayna Greenberg, is taking its acclaimed podcast to the live stage. Audiences are in for juicy conversations, sex tips, relationship advice, and f*ckboy detection at every show. Get your snacks ready as Hesseltine and Greenberg share large doses of chips, laughter, stories, and big surprises.
"The show is a circus, really. We call it the ultimate girls night out," Hesseltine shared with Stamford Advocate. "It has a high energy girls night out vibe but is really this sort of spectacular variety show where we have audience participation and we share stories that we've never shared on the podcast."
The show promises audiences the chance to interact with the iconic duo, as well as new stories, juicy conversations, and big surprises including dancers, jets, and many giveaways. "It's chaotic in a good way and you never know what's going to happen in that room", Hesseltine added.
From sexual fetishes to career tips, Girls Gotta Eat is known for discussing anything under the sun, including fan-submitted questions and stories in its anticipated podcast releases. Since 2018, Girls Gotta Eat serves big doses of laughter, joy, and knowledge to its family of Snackheads. "We believe in SELF-CARE, THE POWER OF FEMALE FRIENDSHIP, AND NEVER SETTLING FOR BAD SEX. We love nothing more than bringing our wild show on the road and meeting our "SNACKHEADS" around the globe," Girs Gotta Eat's website exclaims.
As the duo takes over the live stage, Hesseltine and Greenberg, with some help from the audience, are set to answer these snack-worthy questions:
"Why do guys just want to f*ck you once, then watch your Instagram stories until the end of time? How do you get over a breakup when you feel like you're gonna die? When should you give it up? My boyfriend takes morning baths: IS THIS WEIRD?"
Driven by the power of female friendship and a mission of "never settling for bad sex", Girls Gotta Eat is a movement of allowing women to be their very best. Whatever desire in life, girls definitely gotta eat and win big!
"That really has always been the goal of the show, whether we are talking about careers, friendship or romantic relationships —it's just so people can hear these stories and be like 'me too!" Greenberg shared.
As Hesseltine and Greenberg promises a snackin' night like no other, make sure to save your spots at Girls Gotta Eat's Snack City Tour by booking your tickets now!