Majestic Theatre | Dallas, Texas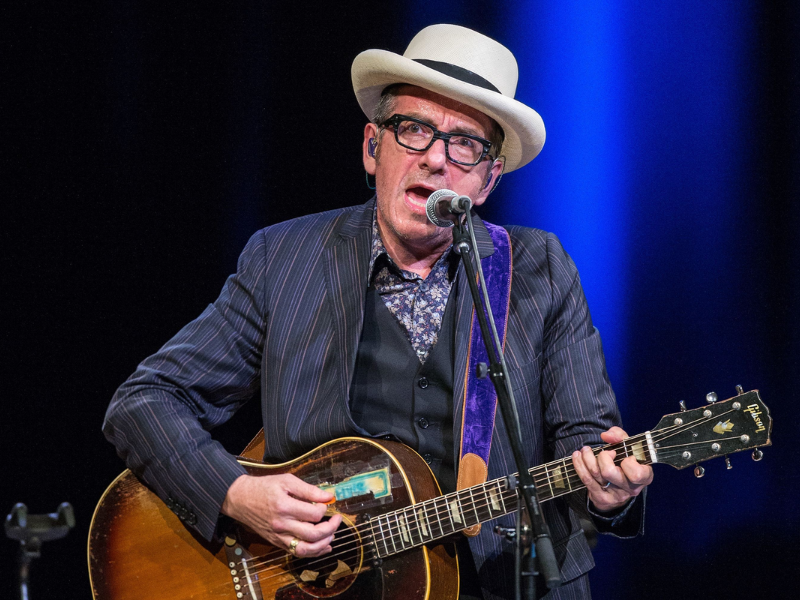 Soar into a sonorous new year once Elvis Costello crashlands at the Majestic Theatre on Friday, January 19, with his band, The Imposters, and guest guitarist Charlie Sexton! Titled the 7-0-7 Tour, the series of live concerts will head southward of the United States, with fifteen dates scheduled, including this pit stop in Dallas, Texas. Costello's reputation as a legendary songwriter shines even in his earliest albums, like My Aim Is True, up to recent ones, such as The Boy Named If. His Billboard-topping tracks, which include "Veronica" and "Oliver's Army," have earned him global prestige and induction into the Grammy, Rock and Roll, and Songwriters Halls of Fame. Experience the new wave and punk rock sound of our featured artist at the Majestic Theatre. The indoor venue will pair top-notch acoustics and historic ambiance, transforming the show into an "odyssey of pure, unadulterated elation." Book your tickets today for a riotous night with Elvis Costello by clicking the button above!
Like a star continuously reborn year after year, Elvis Costello sets out for a comeback series of concerts to jumpstart 2024: the 7-0-7 Tour, featuring his band, The Imposters, and special guest Charlie Sexton. This South-bound stint will cover fifteen dates, kicking off at Tallahassee, FL, in January before finding its way here at the Majestic Theatre in Dallas, TX, on Friday the 19th of the same month.
"As the days grow shorter, anticipation swells. Remember that this is not just a concert — it is a communion of amorous spirits, an odyssey of pure, unadulterated elation."
Elvis Costello is regarded by critics and audiences alike as one of the most gifted songwriters of modern music. From the inaugural My Aim Is True to yesteryear's The Boy Named If, the English troubadour gave us albums interweaving new wave, punk, and rock, with profound lyricism set to themes of love and politics. "Alison." "Oliver's Army." "Veronica." With one hit after another, Costello conquered Billboard's hottest charts and garnered unprecedented acclaim, including inductions to the Rock and Roll, Grammy, and Songwriters Halls of Fame, in addition to two Grammy Award wins. He has also ranked highly in several best-of-all-time lists, including a 24th-place finish in Rolling Stone's 100 Greatest Songwriters of All Time.
"The singers I loved in the early/mid-1970s had intimate voices and, in concert, could hypnotise an audience. I learned the hard way that one could not count on commanding attention at low volume; you had to earn it. So I like it if people have to occasionally sit forward a little in the chair to catch what's going on," Costello reminisced in an interview with Esquire.
The Imposters, which features keyboardist Steve Nieve, drummer Pete Thomas, and bassist Davey Faragher, has supported our headliner since its founding in 2002. Meanwhile, special guest Charlie Sexton is best known as the lead guitarist for Bob Dylan's backing band who helped usher in the era-defining folk album Love and Theft. You might also recognize him from his debut album, Pictures for Pleasure, which produced the Billboard Hot 100 hit "Beat's So Lonely."
For a possible sneak peek of Costello's upcoming concert, here's the setlist from one of his latest performances:
When I Was Cruel No. 2
Watch Your Step
Deep Dark Truthful Mirror
Waiting for the End of the World
Like Licorice on Your Tongue
So Like Candy
Clubland
The Long Honeymoon
Hey Clockface / How Can You Face Me?
Mr. Feathers
God's Comic
Watching the Detectives
In the Darkest Place
Accidents Will Happen
She
Cinco minutos con vos
Shipbuilding
(What's So Funny 'Bout) Peace, Love and Understanding
I Want You
Deep in the heart of the Majestic Theatre, Dallas, Elvis Costello will unleash decades of musical escapades elevated by resonating indoor acoustics. The performance venue of vaudevillian origin also offers a Baroque backdrop teeming with history that audiences can admire from the comfort of spacious seats. Book your reservations now for Costello's 7-0-7 live concert this coming Friday, January 19!