Majestic Theatre Dallas | Dallas, Texas
We can't make this up! So better pack your school bags and raise those pencils as the Bored Teachers take their TikTok comedy-gold antics to the live stage. Helping educators escape the chaos by finding humor in their daily grind, Bored Teachers is officially launching their Comedy Tour for 2023, exclaiming that "We can't make this stuff up!". The TikTok sensation is coming to you live at Majestic Theatre Dallas on Thursday, 15th of June 2023. Don't miss out on this chance to catch the funniest classroom tales on the live stage by booking your tickets now!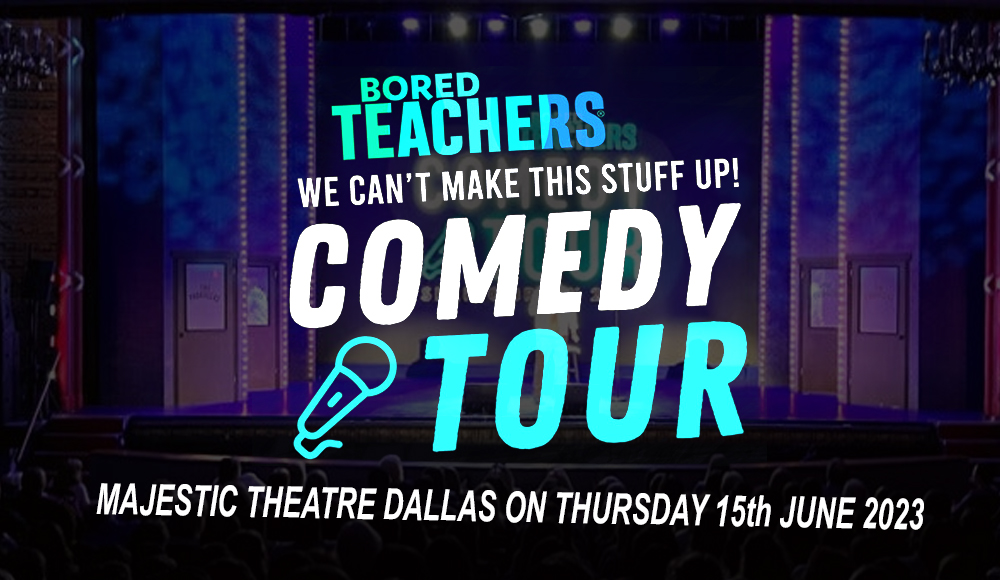 As the biggest entertainment platform for educators globally, Bored Teachers has amassed over 4.5 million followers across TikTok, Facebook, and Instagram, along with over twenty-million monthly views on their viral comedy tales. Bored Teachers Comedy Tour 2023 will bring in some of the nation's most hilarious teachers to the live stage.
After a successful run of over 80 shows in 2022, the comedy group of teachers is making a big national comeback with over 150 shows slated for this year's massive run. As schools take another year full-swing ahead, Bored Teachers is here to bring out the fun and hilarious tales beyond the classroom.
Despite being named "Bored Teachers", these cheeky educators aren't bored at all! "No teacher is ever bored! It's part of our sarcasm and sense of humor. Take a look around our content, you'll see what we mean!" their website shared. Together, Bored Teachers takes inspiration from the sweat, tears, and unmatched passion that teachers around the globe have to go through, launching a portal that allows these educators to share laughs, release stress, and celebrate the fun in shaping the next generation.
"I just wanted to thank you for consistently bringing a smile to my face," a review by Jen D. shared on the Bored Teachers website. "On the difficult days, your posts make me feel like I'm not alone. Your jokes are hilarious and spot-on!. Thank you so much"
As an outlet for teachers to laugh and talk about crazy antics and comedy-gold tales that happens within the classroom, Bored Teachers is taking their movement of sparking joy and celebrating teachers' passion to the live stage. Featuring real stories from the classroom, honest confessions, and exposing ridiculous parent requests, Bored Teachers is set to deliver a show full of laughs, with a handful of lessons along the way.
So, it's time to laugh off the stress and book those tickets now!