Majestic Theatre | Dallas, Texas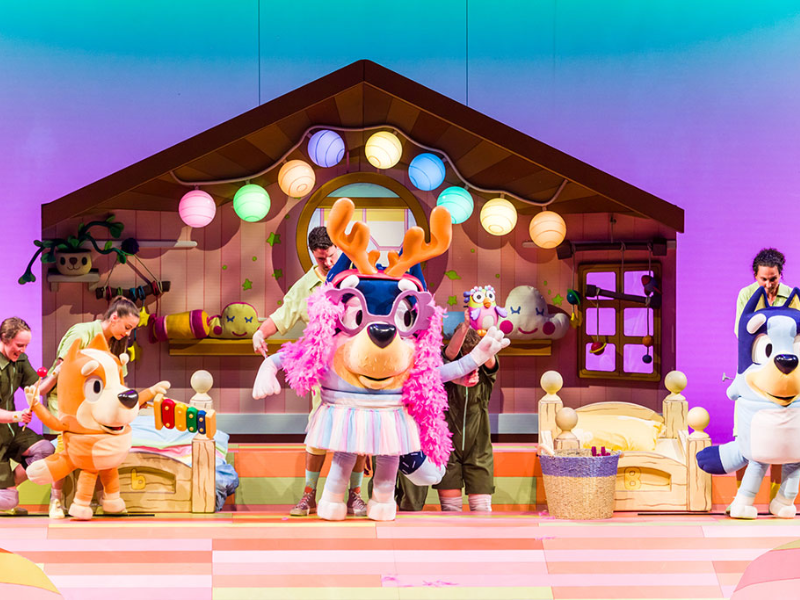 Bluey, Bingo, and the rest of the pack are headed to Texas by the end of winter! Watch the Emmy award-winning Bluey's Big Play at the Majestic Theatre Dallas on Sunday, February 25th, next year. Be there to see the brilliant puppets brought to life in this fresh adaptation of the popular Australian children's television series! This weekend-long event will play four consecutive shows featuring a whole new story by creator Joe Brumm and music by composer Joff Bushes. Tag along as the Heeler family sets out on adventures that showcase the limitless imagination of their adorable crew. That's not all! Learn countless fun facts in this live production as your favorite characters explore educational themes and discuss deeper topics. Invite the entire family to a blowout that will leave everyone with smiles for the rest of the night! Reserve your seats as soon as possible!
Bluey's Big Play is headed to the Majestic Theatre Dallas on Friday, 23rd February next year! This event will conclude the three-day showing of the Australian show's live production that kicks off in August this year. Following the year-long North American tour, the fun production will drop in theaters across the United States before concluding at the Pikes Peak Center in Colorado in July next summer.
Bluey is a kid's cartoon series about a family of Aussie blue heelers, well known for its humor and intriguing takes on family dynamics and growing up. The show gained international acclaim when it won an international Emmy Kids Award for "World's Best Content for Young Viewers" three years ago.
"This show has to be one of the best, if not the best, pieces of children's theatre and family theatre that I've ever seen," Broadway World shares. "The story was a beautiful slice of life, as all Bluey stories are, for not just the young and the old. Through his work, Joe Brumm provided a subtle social commentary on the amount of time we spend on our phones, the give-and-take relationship between siblings, childhood naivety, and family dynamics, all bundled into a neat bow. "
Limited supplies of VIP packages will also be available for those looking for an upgrade. Each attendee who will avail of these tickets will gain exclusive access to the following:
Meet & Greet Photo Opportunity per Gorup with a Bluey Costume Character
Bluey VIP Lanyard
Bluey VIP Gift
See the rest of the week's available shows at the Majestic Theatre Dallas here:
Friday, February 23rd - 6:30 PM
Saturday, February 24th - 11:00 AM
Saturday, February 24th - 5:00 PM
Sunday, February 25th - 2:00 PM
The show will run for approximately fifty minutes with no intermissions, while the Meet & Greet sessions will last no more than sixty minutes after the performances.
Drop by the downtown performing arts theater for the best full experience of Bluey's live production in the whole of Texas! Treat your friends and family to tickets today and enjoy an enriching show for all ages. Reserve your seats now!