Majestic Theatre | Dallas, Texas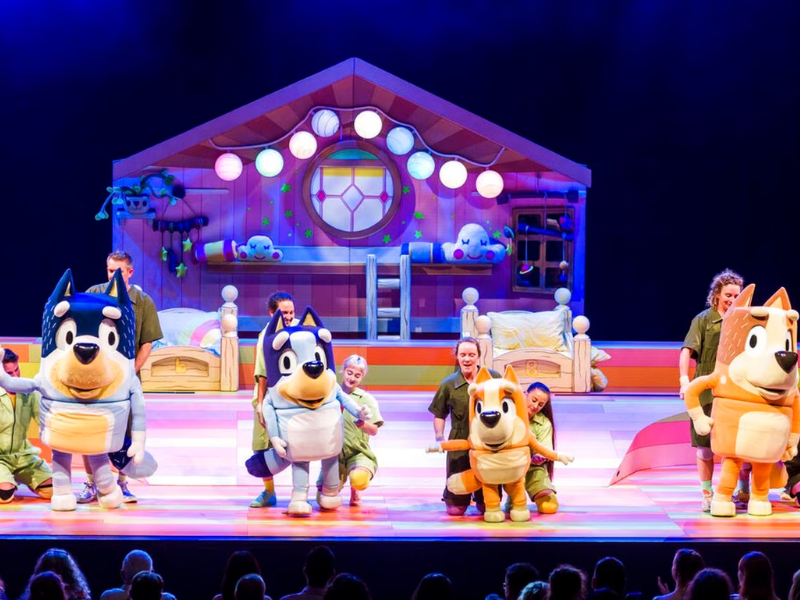 The Heeler family is pumped up and ready to drop by Texas! Bluey's Big Play - The Stage Show is rounding up at the Majestic Theatre Dallas on Friday, February 23rd of next year! Featuring an original story by genius creator Joe Brumm and music by composer Joff Bushes, the brilliant puppets are being brought to life in this fresh adaptation of the Emmy award-winning children's television series! The North American tour of the show will begin in late August in New Orleans and will continue to run for a whole year in multiple cities before ending in the summer of next year. See Bluey, Bingo, and all your favorite characters for a fun production that will leave you in high spirits for the rest of the night! The city's historic entertainment hub on Elm Street is the place to be for a memorable family experience of this weekend-long live series. Plan your trips and purchase your tickets now!
Bluey's Big Play lands on the Majestic Theatre Dallas on Friday, 23rd February next year! This weekend-long showing of the fun production kicks off in August this year and will visit theaters across the United States before concluding at the Pikes Peak Center in Colorado in July of next summer.
Bluey is an animated series that revolves around a family of Aussie blue heelers dogs. Produced by Brisbane's Ludo Studio for ABC Kids, the show was jointly commissioned by ABC Children's and BBC Studios. Generally, the cartoon is well known for its humor and deft handling of issues like family dynamics and growing up.
Over three years ago, Bluey won an international Emmy Kids Award for "World's Best Content for Young Viewers." Since then, Disney channels and other platforms have broadcasted the series all over the globe, including the US, UK, China, New Zealand, South Africa, and Kenya.
The Guardian explains how most of the people inside the theater are seemingly eager to see Bluey and her family in real life. Many grownups without children are present among the masses of parents and kids, demonstrating the show's appeal to a wide audience as it doesn't hesitate to share the facts while encouraging imaginative play and highlighting Brisbane life.
"It's an incredibly fun, energetic performance, but there's also plenty of heart and smart explorations of concepts that are tricky to grapple with for both children and adults," the review continues.
See the rest of the week's available shows at the Majestic Theatre Dallas here:
Friday, February 23rd - 6:30 PM
Saturday, February 24th - 11:00 AM
Saturday, February 24th - 5:00 PM
Sunday, February 25th - 2:00 PM
Audiences should keep in mind that Bluey's Big Play run time is approximately fifty minutes with no intermissions.
The stage at Dallas is the best venue to present this award-winning educational show for all ages! With a 2,200-seat capacity, the downtown performing arts theater is definitely the place to be if you want the full experience of Bluey's Big Play.
Bring the whole family for a fun-filled night that will enrich the minds of audiences. Go and treat everyone to a ticket now!